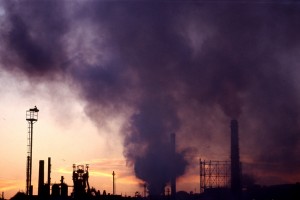 New emissions-reduction targets for heavy-emitting industries. A new report published by CDP, the international not-for-profit organization that holds the largest collection of company-reported environmental data, has found that a significant scaling up of activity is required for companies in heavy-emitting industries to achieve emissions-reduction targets.
In its fourth annual Carbon Action report, Why companies need emissions reduction targets: The key to a low carbon economy, CDP highlights how 224 companies in heavy-emitting industries are investing in emissions-reduction projects and setting emissions targets. Whilst 79% of companies reported emissions-reduction targets in 2014, these targets are not yet translating into adequate emissions reductions.
Key Findings
CDP's Carbon Action initiative saw the following results in 2014:
– An upward trend in the number of companies establishing emissions-reduction targets, with an increase of 3% over three years to reach 79% of responding companies (227);
– Although 61% of companies adopted intensity targets, emissions intensity was reduced by less than 3%;
– Companies should shift from focusing on intensity targets and reduce absolute emissions with research showing the former can be met despite absolute emissions increasing;
– For companies reporting full data on emissions reduction projects, emissions reduced by 8%;
– Investments in emissions-reduction projects were reported to have increased by 18%;
– 21% of responding companies did not adopt any intensity or absolute targets;
– A 7% increase in the number of companies targeted by Carbon Action to 322; although the number of companies reporting emissions reduction projects did not increase correspondingly; and
– A 34% increase in the number of signatories of Carbon Action to 254.
CDP's Carbon Action initiative is backed by 254 investor signatories with US$19 trillion in assets. These investors sign a letter each year which asks companies to take action to reduce their emissions and report this information through CDP.
CDP urges current signatories of Carbon Action to engage with high-emitting companies in order to reduce climate risks from portfolios and maximize the business benefits from target setting, investment in emissions reductions and energy-efficiency projects. CDP can support investor engagement with companies by providing analysis and benchmarking tools, background information on each company, coordinating individual or joint letters, and helping investors file shareholder resolutions, where appropriate.
CDP is an international, not-for-profit organization providing the only global system for companies and cities to measure, disclose, manage and share vital environmental information. CDP works with market forces, including 767 institutional investors with assets of US$92 trillion, to motivate companies to disclose their impacts on the environment and natural resources and take action to reduce them. CDP now holds the largest collection globally of primary climate change, water and forest risk commodities information and puts these insights at the heart of strategic business, investment and policy decisions.